Software Testing training in Chandigarh: Five Essentials to Getting Started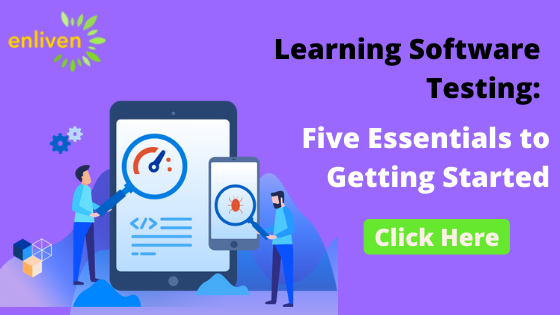 Software testing is the process of ensuring that whether a certain software application is behaving in the same way, it was designed for or it is able to do work well in the real world? For evaluating the performance of a software or application, software testing training in Chandigarh involves a series of tests that find out the errors or bugs and gaps or missing requirements in a software program.
In order to develop a software that meets with the end user's requirements, it is imperative to identifying its defects and resolving them before running it on the real-world platform. To develop a bug-free and high-quality software application, join a leading software testing training in Chandigarh.
Software testing involves all essential steps for verifying and validating a software application. Together with checking the authenticity regarding its implementation with the same characteristics software testing also ensures the efficiency of an application to meet all the technical and business requirements. The software application's success rate contributes a lot to the growth of a business.
As an app developer, you must learn to test your own apps. You must be able to detect some obvious bugs that can suddenly jump out during the final presentation of your work to the clients. Hence learn the software testing skills from the best web development training in Chandigarh and develop highly effective web apps.
Five essentials to Getting Started with Software Testing
To achieve a leading position in software testing one must hold good communication skills, work efficiency, and patience. Start the work of software testing as soon as possible so the reworking cost and time can be reduced to its minimum and you can deliver the bug-free software to the client withing defined time intervals. When you are getting started with software testing, keep these exclusive five key essentials in your priority list.
An Effective Test Strategy
Test strategy is a structured program based on prioritized requirements and the information regarding customer's needs. It lays out the overview of your application. An effective test strategy helps in idealising the testing type for a particular software, the order of executing the various test steps, and the intensity of efforts you have to make for better test results.
An ideal test strategy is responsible for the optimum use of available resources in order to locate the worst defects effectively. A good test strategy saves your resources, time and efforts from less effective testings.
An Exclusive Testing Plan
A testing plan is an essential part of the whole testing. It is designed for the organisational point of view for creating a balance between the tasks and their allotted time. Test plan reveals which task is assigned to a particular person for a particular time period. It also represents the dependencies of each process on others. Since both the test strategy and the test plan are the living components of the software testing hence they must be updated time to time with the client's requirements.
Various Testing Cases
Test cases are the various conditions that need to be satisfied while applying on your app code. The development of test cases are based on the customer's emphasis on project's quality dimensions and risk assessments, hence the consideration of project's prioritized requirements and acceptance criteria in real-world for the software is essential.
A program is always written for getting the expected results. To run a test case, input the information your test case contains and check if you are getting the expected results at each point. If not then your test case is failed. A good test case assures the requirements are being met and has a good chance of uncovering defects.
Prepare A Set of Test Data
Set of test data contain sets of names, addresses, product orders, or each other information relevant to your app. Running a test on real user's data is not a wise option because during the test you may need to create, delete or update the app data. So it is better to prepare a set of test data. You can alter the test data and check the performance of a particular function. Test data and test cases both can be developed simultaneously.
A Multi-Platform Testing Environment
An app is designed in a way so it can run on different platforms. For example if you are developing an iOS app, then make sure it can be run on all Apple devices like Laptops, iPhones, iPods etc. In this way, it becomes more important to test that app on each platform it is developed to work on. Your software performance or usability testing environment must contain the whole room of devices for that the required app testing will be performed.
If you are looking for web designing training in Chandigarh for developing high quality, bug-free software, make sure to prepare with all five essentials. These will offer you adequate resources, documented requirements and improved involvement with the project.