Aim & Achieve Coaching offers a wide range of education courses (competitive and entrance) like Bank PO/Clerk, SSC CGL/CHSL (+2 Level for LDC and DEO), RRB, Delhi Police Sub-Inspector and constable, Insurance Sector Jobs, NDA/CDS, Hotel Management, CLAT etc. The unique teaching methodology, experienced faculty, extensive and elaborated study material and periodic tutorials/doubt classes is making Aim & Achieve a first choice for the most aspirants.
Now in your city Chandigarh, Come and join our fresh batches starting from 8 a.m. and 10 a.m.
Aim & Achieve Success Mantra
Beautiful 2.5 Acres Campus
Air-conditioned, spacious, adequately lighted and hygienic classrooms
Live Classes
Small Batched up to 10 seats only
Books
Vacancy Updates
Life Long Membership
Efficient, committed and excellent organization
Regular doubt remedial classes
Every Saturday Compulsory test
Highly qualified, experienced and dedicated faculty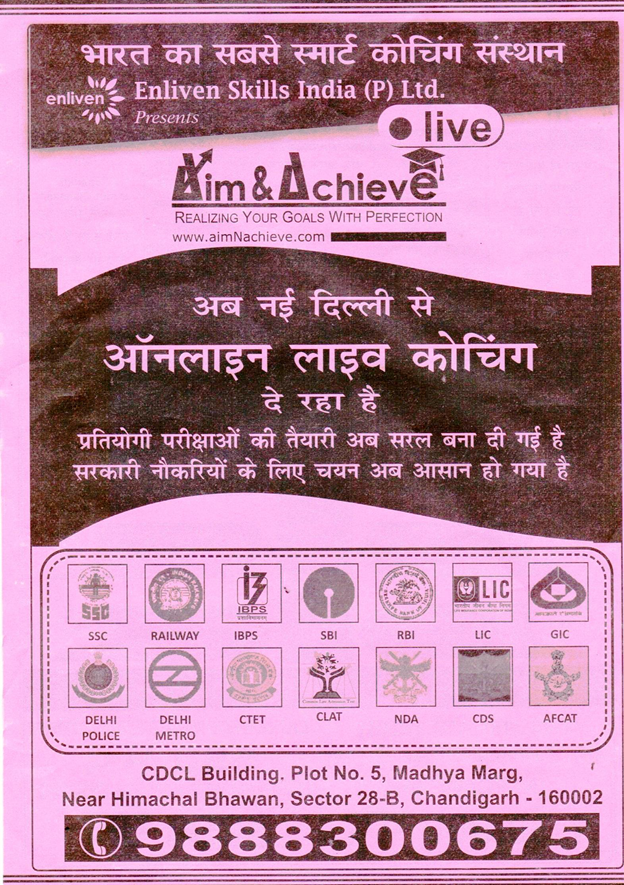 Here we provide not only study material, regular test and quiz but keep focus from very first day on every point effects the preparation. We all know that the result of all small activities make a combined big effect on the growth of any person's life. We generate the ability of making the different types of queries on each & every topic, and approach every problem with a systematic and applicable solution. Our immediate concern is a firm foundation of the basic concepts which leads to a better career growth eventually.