How to select an institute for PHP training in Chandigarh? Check here!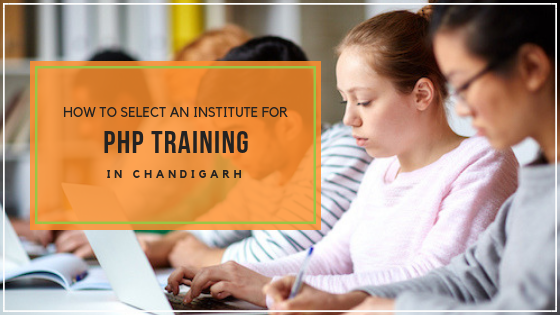 If you are keen on learning the basics of website development, PHP can be a good place to start. Thankfully, there are plenty of options to get started, but before you go ahead and sign up for a PHP training institute in Chandigarh, we insist that you check the aspects listed below.
The training programs. PHP requires considerable understanding of core aspects – HTML5, CSS3, JavaScript and JQuery. A simple course on these inclusions can take about six weeks or so. Some institutes also offer advanced 3/4-month courses, as well, where you can learn more about CMS and frameworks. Extensive courses are also often available with live project development.
Check the curriculum. When it comes to PHP training in Chandigarh, no two institutes are the same. It is highly recommended that you check all the inclusions of the course in detail. Find more about learning modules, flexibility for classes, especially if you are a working professional and have other commitments. An introductory course usually covers the basics of HTML.5, CSS 3, PHP and Java Script.
Learning support is important. While the cost of the course might seem like an important factor, you would be more concerned if the institute offers learning support. Access to instructors and course materials is extremely important, and you may even want to take a demo class, if the option is available. Also, there is no harm in discussing the qualifications and experience of the instructors. The batch size is also something that matters because learning in a crowded environment may hamper the experience.
There are many institutes and centers that offer PHP industrial training in Chandigarh with an assurance for placement assistance. Try and evaluate the choices based on the course content and learning support, because placement is more about your knowledge and eventual practical application.